اخبار
بازی های هفته اول لیگ برتر فوتبال ایران و ضرایب
دوازدهمین دوره لیگ برتر از فردا شب آغاز می‌شود و ستارگان میلیاردی فوتبال دوباره گام به مستطیل سبز می‌گذارند.
آغاز مسابقات لیگ برتر فوتبال ایران، یعنی آغاز شور و نشاط و هیجان در جامعه.
فوتبالدوستان مشتاقانه برمنتظر  آغاز دوباره رقابت‌های لیگ برتر هستند و شاید به دلیل همین علاقمندی است که فدراسیون تاریخ و آمار، لیگ برتر ایران را با تمام محدودیت‌های سخت‌افزاری‌اش بالاتر از لیگ‌های معتبری چون جی‌لیگ ژاپن یا کی‌لیگ کره جنوبی در آسیا قرار داده و هجدهمین لیگ معتبر جهان دانسته است. با این حال فوتبالدوستان ایرانی با دیدن رقابت‌های یورو ۲۰۱۲ انتظار و توقع‌شان از لیگ برتر بالاتر رفته و دوست دارند شاهد بازی‌های فنی و زیبا باشند.
در جدول زیر نگاهی‌ به بازیهای هفته اول جام خلیج فارس می‌‌اندازیم: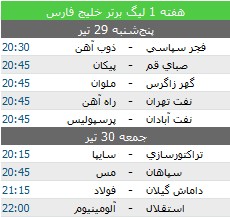 ضرایب بازیها در سایت بت۳۶۵ بدین ترتیب است: (برای دیدن بهتر ضرایب روی هر عکس کلیک کنید)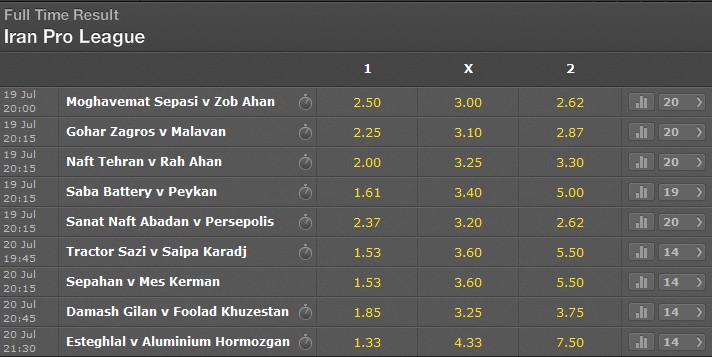 ضریب گل بالا و گل پایین (تعداد گل Over یا بالای ۲.۵ و Under یا پایین ۲.۵) به ترتیب زیر است: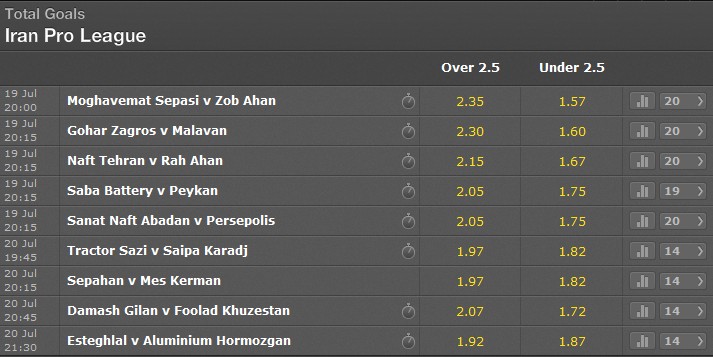 و اما ضرایب دابل شانس در زیر آمده است. دابل شانس یا Double Chance یک نوع شرط بندی است که در آن، کاربر انتخاب می‌کند که کدامیک از حالت‌های زیر ممکن است اتفاق بیفتد:
میزبان برنده شود یا بازی مساوی گردد ۱X
میهمان برنده شود یا بازی مساوی گردد X2
یا میزبان یا میهمان برنده شود (بازی مساوی نشود) ۱۲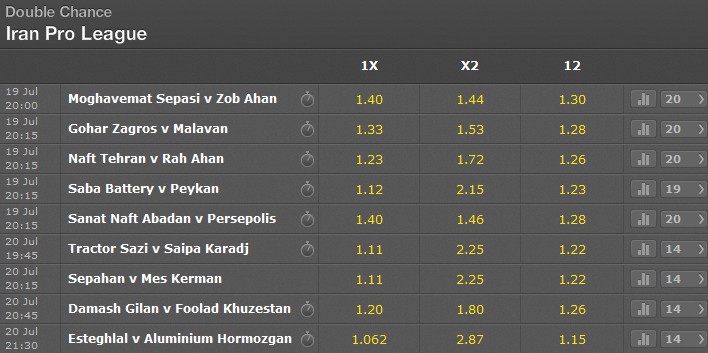 برای دیدن فرصت‌های دیگر شرط بندی به سایت بت۳۶۵ مراجعه فرمائید. برای انتخاب لیگ برتر ایران، ابتدا از منوی سمت چپ ورزش فوتبال یا Soccer را انتخاب کنید. از لیست لیگ ها، Rest Of The World را انتخاب کنید. حالا روی لیگ برتر ایران یا Iran Pro League کلیک کنید تا بازیها، انواع شرط بندی و ضرایب آنها را مشاهده نمایید.
همچنین طبق مذاکرات ایران بت۳۶۵ با شرکت، شرط بندی بر روی تعداد کرنر‌های یک بازی، هم به صورت پیش از بازی و هم به صورت زنده، در لیگ برتر ایران از سال ۱۳۸۹ فراهم شده است که این فرصت کماکان وجود دارد. لطفا دقت داشته باشید که تنها بازیهایی که شرکت به صورت تصادفی در طول فصل انتخاب میکنند، این گزینه را به کاربران ارائه خواهند داد و فرصت شرط بندی کرنر بر روی همه بازیهای لیگ ایران امکان پذیر نیست.
ضمنا همه بازیهای لیگ برتر ایران (خلیج فارس) به صورت زنده در سایت بت۳۶۵ جهت شرط بندی ارائه میشوند.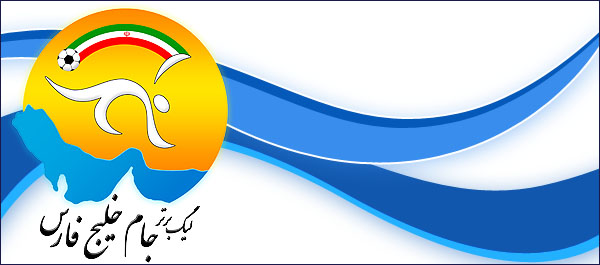 نگاهی به ۹ دیدار لیگ برتر می‌اندازیم:
* نفت آبادان – پرسپولیس؛ نبرد مربیان پرتغالی در برزیل ایران!
نفت آبادان فصل گذشته با ۴۳ امتیاز در رده دهم و دو پله بالاتر از پرسپولیس ۴۲ امتیازی قرار گرفت. بدترین رتبه تاریخ پرسپولیس در لیگ یازدهم با مصطفی دنیزلی به دست آمد که به هواداران قول داده بود فصل بعد نتایج مطلوبی بگیرد و ناکامی‌ها را جبران کند اما خیلی زود پشیمان شد و به کشورش برگشت تا سرخپوشان با وجود جذب ستاره‌های ملی‌پوشی چون کریم انصاری‌فرد، سیدجلال حسینی، محسن‌بنگر، شهاب گردان و … در فصل نقل و انتقالات، مدت‌ها بدون سرمربی تمرین کنند. در نهایت مانوئل ژوزه پرتغالی که لقب فرگوسن مصر را یدک می‌کشد به پرسپولیس آمد.
هواداران پرسپولیس بی‌صبرانه منتظرند تا پرسپولیس مدل ۹۱ را ببیند؛ یک پرسپولیس کهکشانی. ستارگان سرخ در شهری که به برزیل ایران شهرت دارد باید به میدان بروند.
هدایت نفت آبادان را هم کاستای پرتغالی بر عهده دارد و باید دید نبرد دو مربی پرتغالی در برزیل ایران چه نتیجه‌ای در بردارد. اگر پرسپولیس برنده نباشد شرایط کار را برای مانوئل ژوزه سخت‌ می‌کند. فصل گذشته هواداران پرسپولیس خاطره تلخی از آبادان داشتند و تیم‌شان ۴ بر ۲ شکست خورد، البته دیگر میثاق معمارزاده در پرسپولیس و فونیکه‌سی در نفت نیستند و شاید بازی نتیجه دیگری داشته باشد.
* فجرسپاسی- ذوب آهن؛ نبرد مربیان اصفهانی
فجرسپاسی تیمی قابل احترام که همواره با اتکا به بازیکنان جوان در لیگ برتر حضور داشته امسال هم همان شرایط گذشته را دارد. مسئولان فجر می‌گویند با توکل به خدا و غیرت و تعصب برابر تیم‌های میلیاردی بازی خواهند کرد، البته اولین حریف آنها اکنون دیگر تیم پولداری نیست. با این حال جدال دو مربی اصفهانی دیدنی خواهد بود. رسول کربکندی که هدایت ذوب آهن را برعهده دارد و محمود یاوری که مسن‌ترین مربی لیگ برتر است.
* صبای قم – پیکان؛ بازگشت گواردیولا با پیکان به قم!
جدایی عبدالله ویسی از صبا بسیار جنجالی و پرماجرا شد. سرمربی سابق صبا حتی برای اثبات حرف‌هایش متن قراردادش را منتشر کرد و نبرد رسانه‌ای و لفظی شدیدی بین او و رمضان‌بیگی مدیرعامل باشگاه صبا رخ داد. البته این دو در اردوی تدارکاتی در اردبیل با هم آشتی کردند ولی حساسیت‌ها همچنان باقی است.
عبدالله ویسی که به گواردیولای ایرانی شهرت دارد خیلی زود و با پیکان به قم برگشت تا شاهد مسابقه‌ای حیثیتی باشیم. یحیی ‌گل‌محمدی که جانشین ویسی در صبا شده باید جوان‌ترین و درعین حال موفق‌ترین مربی فصل گذشته را شکست دهد. ویسی انگیزه‌های زیادی برای پیروزی برابر تیم سابقش دارد همان طوری که مسئولان باشگاه صبا دوست دارند در شهر خودشان پیکان سواری کنند و سه امتیاز را بگیرند.
* گهر زاگرس- ملوان؛ بازی در شهر بی‌طرف
گهر زاگرس تیم شگفتی‌ساز فصل گذشته لیگ یک بود که توانست با حداقل امکانات به لیگ برتر صعود کند. شهر دورود و استان لرستان با تمام اشتیاق و علاقمندی به فوتبال استانداردهای مورد نظر کنفدراسیون فوتبال آسیا را ندارد به همین دلیل و به اجبار تیم گهر در ورزشگاه انقلاب کرج میزبان حریفانش خواهد بود.
گهر داود مهابادی سرمربی فصل قبل خود را ندارد و مهدی ‌تارتار جای او را گرفته است در حالی که ملوان با همان کادر فنی فصل گذشته و با حضور بازیکنانی چون پژمان نوری، حسین بادامکی و مازیار زارع قدرتمندتر از گذشته به مصاف گهر می‌رود. حسین هدایتی اکنون مالک باشگاه ملوان است و می‌خواهد خاطرات تلخ استیل آذین در لیگ برتر را از اذهان عمومی پاک کند. اولین حریف ملوان یک تیم ناشناخته است تیمی که تارتار گفته می‌خواهد شگفتی ساز لیگ شود.
* نفت تهران – راه آهن؛ دایی و راه‌آهنی که پرواز می‌کند!
نفت تهران فصل گذشته با حسین فرکی شگفتی ساز شد و با بازیکنان جوان و گمنام در پله پنجم قرار گرفت. فرکی اکنون از نفت به فولاد رفته و منصور ابراهیم‌زاده سرمربی سابق ذوب آهن که در کارنامه‌اش نایب‌قهرمانی آسیا و لیگ را دارد هدایت نفت را برعهده گرفته است. ابراهیم‌زاده باید برابر تیمی بازی کند که اکنون دیگر هیچ نشانی از راه آهن قبل ندارد. مالکان جدید این باشگاه از یک شرکت هواپیمایی هستند و علی دایی را همچنان حفظ کرده‌اند. باید دید راه آهنی که پرواز می‌کند با دایی می‌تواند بهتر از فصل قبل نتیجه بگیرد یا دایی و راه آهن مثل فصل گذشته برای سقوط نکردن می‌جنگند.
* استقلال – آلومینیوم هرمزگان؛ برخورد کهکشان آبی در روز سکونشینی امیر و اکبر!
استقلال با امیر قلعه نویی سرمربی محبوب هوادارانش وارد مسابقات می‌شود هرچند او در دو بازی اول لیگ محروم است و باید تیمش را از روی سکوها هدایت کند. با این حال حضور قلعه‌نویی در ورزشگاه قطعا تماشاگران زیادی را به ورزشگاه می‌کشاند. اولین حریف آبی‌ها تیم تازه لیگ برتری شده آلومینیوم هرمزگان است که اکبر میثاقیان هدایتش را برعهده دارد. مربی‌ای که به قول قلعه‌نویی باطراوت است.
میثاقیان هم مثل قلعه‌نویی محروم است و باید کنار دست سرمربی آبی‌ها روی سکو بنشیند. روی کاغذ استقلال برنده این بازی به نظر می‌رسد اما نباید فراموش کرد که تیم‌های قلعه‌نویی همیشه لیگ را بد شروع و خوب تمام می‌کنند بنابراین شاید آلومینیوم شگفتی‌ساز هفته اول شود. برخورد کهکشان آبی با آلومینیوم در نوع خود جالب توجه است.
* داماش گیلان – فولاد خوزستان؛ نبرد فرکی و هرندی
داماش بلاتکلیف‌ترین تیم لیگ دوازدهم است، تیمی که عابدینی مدیرعاملش می‌گوید شاید اولین تیمی باشد که به دلیل مشکلات مالی از لیگ کنار بکشد. وضعیت مالکیت باشگاه نیز همچنان در هاله‌‌ای از ابهام قرار دارد  اما با این حال امید هرندی مدعی است که اگر چه بی‌پول هستند اما به عشق مردم و به حمایت مردم رشت، فولاد را شکست می‌دهند. فولاد هم با حسین فرکی می‌خواهد گام اول را محکم بردارد. فولاد فصل گذشته با مجید جلالی چهاردهم شد و داماش با وجود تمامی مشکلاتش روی پله هفتم ایستاد ولی اکنون هر دو تیم تغییرات زیادی داشته‌اند.
* تراکتورسازی – سایپا؛ تقوی مقابل یک پرتغالی دیگر
تراکتورسازی نایب قهرمان فصل قبل میزبان تیمی است که سرمربی‌اش عوض نشده و بازیکنان جدیدی را هم جذب کرده است. تنها تغییر سایپا نسبت به فصل گذشته حضور محمد خرمگاه به عنوان مدیر فنی است و شاید برای اولین بار در فوتبال ایران است که مدیر فنی یک تیم اختلاف سنی زیادی با سرمربی تیمش ندارد. ضمن اینکه خرمگاه تجربه سرمربیگری در لیگ برتر را هم نداشته است. با این شرایط شاگردان مجتبی تقوی باید به مصاف مردان تونی اولیویرای پرتغالی بروند. حضور پرشمار و پرشور تبریزی‌ها در ورزشگاه می‌تواند عرصه را بر نارنجی‌پوشان سایپا تنگ کند. نایب قهرمان می‌خواهد با برد لیگ را شروع کند اما سایپا هم حریف دست و پا بسته‌ای نخواهد بود.
* سپاهان اصفهان – مس کرمان؛ دربی صنعتی
قهرمان سه دوره متوالی لیگ برتر اگر چه نسبت به گذشته بازیکنان اسمی و تاثیرگذار کمتری دارد اما همچنان قطب زرد فوتبال ایران است. کرانچار سرمربی موفق فصل گذشته در سپاهان باقی‌مانده اما ستارگانی چون جانواریو، سزار و حسینی از سپاهان رفته‌اند. حریف زردپوشان اصفهانی مس کرمان است؛ تیمی که بازیکنان خوب و ممتازی جذب کرده و ابراهیم قاسمپور هم که فصل گذشته این تیم را از خطر سقوط نجات داد همچنان هدایتش را برعهده دارد. دیدار این دو تیم  متمول در واقع یک دربی صنعتی است که نتیجه‌اش برای مدیران ارشد دو باشگاه و حتی دو شرکت صنایع مس و فولاد مبارکه سپاهان مهم‌تر از نتایج دیگر بازی‌های لیگ است.
منابع:
۱- سایت ورزش ۳
۲- سایت بت ۳۶۵
۳- مدیریت ایران بت ۳۶۵